Saginaw Intermediate School District's Career and Technical Education
Department Celebrates Robert Delgado as Saginaw Career Complex's 2023 Alumni of the Year
Saginaw Intermediate School District (Saginaw ISD) is pleased to celebrate Robert Delgado as Saginaw Career Complex's (SCC) 2023 Alumni of the Year. SCC Culinary and Hospitality Instructor, Julie Ivan, nominated Mr. Delgado, who graduated from Arthur Hill in 2008 and began his time at SCC studying graphic arts before discovering his passion for the Culinary Arts and Hospitality program. Today, Mr. Delgado owns Robbie D's Food Truck and Restaurant in Old Town Saginaw and serves on the Culinary Advisory Board for SCC. "Robert is an outstanding example of what CTE can do to help someone's dream and career come true. He is hard-working and always gives credit to SCC in every interview about his business," said Ms. Ivan.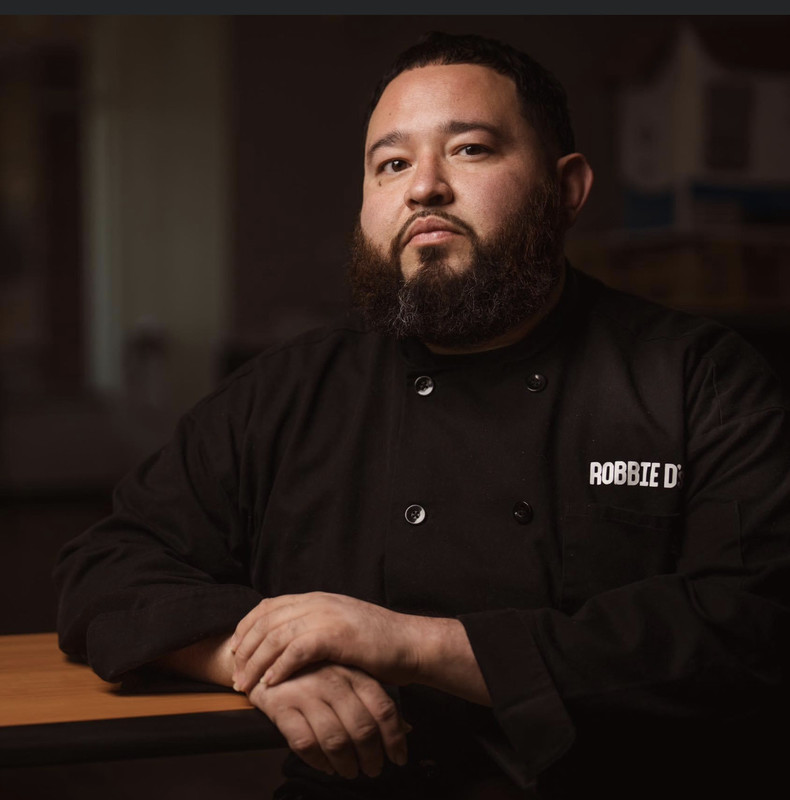 In 2023, Mr. Delgado will begin participating in the SCC work-based learning program by providing students in the Food and Hospitality program an opportunity to gain experience at Robbie D's for two weeks. "CTE is an essential component of workforce development, providing young people in our community with a path toward high-demand occupations. The level to which SCC alumni mentor our next generation is exceptional," explained Saginaw ISD's Executive Director of CTE, Jenny Geno. To provide even more practice and experience for current SCC students, Mr. Delgado volunteers as a guest judge and classroom speaker.
Mr. Delgado remembers his time at SCC fondly by sharing, "SCC impacted my life tremendously because if it wasn't for the Food and Hospitality class, I don't think I would have discovered my love for cooking. Ms. Ivan taught me a lot that I still remember today, and she always answers any questions regarding the food industry." In the future, Mr. Delgado plans to franchise Robbie D's and have multiple restaurants and food trucks across the United States.
To honor Mr. Delgado as the SCC 2023 Alumni of the Year, Saginaw Public School District will host a special luncheon at the on-campus student restaurant at SCC on February 22, 2023. To learn more about SCC or Robbie D's, please visit https://www.spsd.net/scc/ and https://www.robbieds.com/.
About Saginaw ISD
Saginaw Intermediate School District (SISD) is an educational service agency that provides effective and innovative leadership, services, resources, and programs throughout Saginaw County. Saginaw ISD provides career and technical education, early childhood, finance, human resources, instruction, pupil accounting, special education, technology, and transportation services. In addition, SISD operates multiple educational programs to meet the unique needs of students ages birth to 26 across Saginaw County, including: Hartley Outdoor Education Center, Head Start/Early Head Start and Great Start to Readiness Programs, Great Lakes Bay Early College, Saginaw County Juvenile Detention Center School, and Special Education Center Programs.
Saginaw ISD serves 12 local school districts, six public school academies, and 22 non-public schools, with a total enrollment of approximately 26,000 students. Public school districts supported include: Birch Run Area Schools, Bridgeport-Spaulding Community School District, Carrollton Public Schools, Chesaning Union Schools, Frankenmuth School District, Freeland Community School District, Hemlock Public School District, Merrill Community Schools, Saginaw Public School District, Saginaw Township Community Schools, St. Charles Community Schools, and Swan Valley School District.