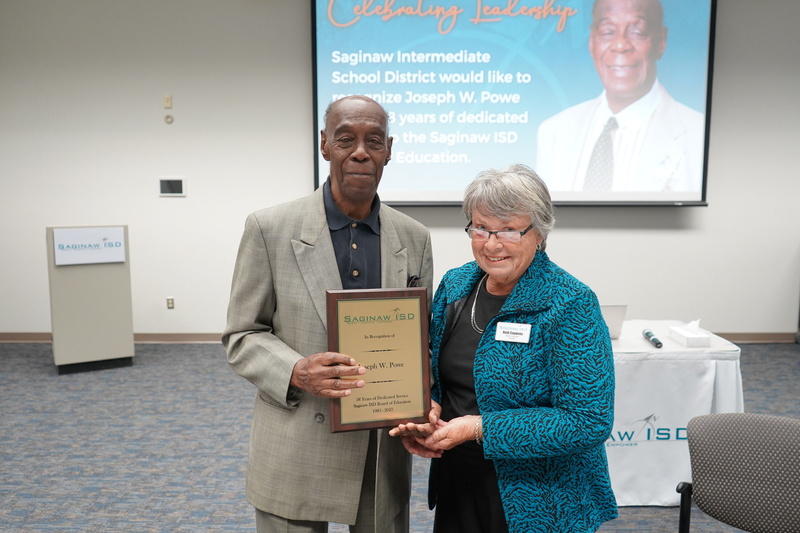 Saginaw Intermediate School District (ISD) would like to celebrate Joseph W. Powe and his astounding 38 years of service to the Saginaw ISD Board of Education. With prior experience on the Buena Vista School District Board, Mr. Powe's unwavering commitment to continuous learning has made a lasting impact on the students of our community. "Joe's dedication to education and tireless advocacy for students have been truly inspiring. We deeply appreciate his many years of selfless leadership to not only the Saginaw ISD Board but the entire county," said Board President Ruth Coppens.
During his tenure, Mr. Powe pursued further education through the Michigan School Business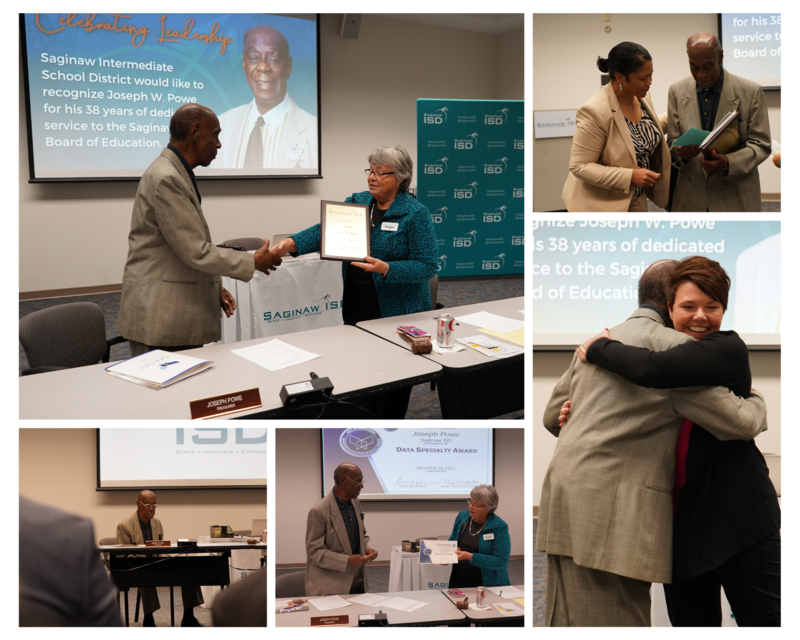 Officials (MSBO) program, acquiring invaluable knowledge and skills. This training enabled him to make informed decisions and contribute to the growth of Saginaw County's educational system. "Throughout Mr. Powe's legacy of service, he played an integral role in creating a strong foundation for the Saginaw ISD and provided steadfast encouragement to be progressively thoughtful, service-oriented, and future-focused for students in Saginaw County. We extend our heartfelt gratitude for his indelible contributions to our learning community," expressed Superintendent Dr. Jeffrey Collier. Mr. Powe attended his final board meeting on June 12, 2023, commencing with a celebration of his years of service.
Saginaw ISD Board of Education
The Saginaw ISD Board of Education meets at 5:00 p.m. on the second Monday of each month at the Saginaw Intermediate School District Transitions PD Center. Special meetings and/or alternate meeting locations are made by the call of the chair. Alternative locations include:
Transitions PD Center, 3860 Fashion Square Boulevard, Saginaw
Millet Learning Center, 3660 Southfield Drive, Saginaw
Hartley Outdoor Education Center, 12633 Beaver Road, St. Charles
About Saginaw ISD
Saginaw Intermediate School District (ISD) is an educational service agency that provides effective and innovative leadership, services, resources, and programs throughout Saginaw County. Saginaw ISD provides career and technical education, early childhood, finance, human resources, instruction, pupil accounting, special education, technology, and transportation services. In addition, Saginaw ISD operates multiple educational programs to meet the unique needs of students ages birth to 26 across Saginaw County, including: Hartley Outdoor Education Center, Head Start/Early Head Start and Great Start to Readiness Programs, Great Lakes Bay Early College, Saginaw County Juvenile Detention Center School, and Special Education Center Programs.