Saginaw Intermediate School District (ISD) is thrilled to announce that our Executive Director of Special Education, Erin Senkowski, has been honored with the Marvin Beekman Award from the Michigan Association of Administrators of Special Education (MAASE). This recognition is the highest of the MAASE honors, awarded annually to a standout special education administrator in the state.
"On behalf of Saginaw ISD, I congratulate Erin Senkowski on this fantastic recognition of leadership achievement. Erin's vision, dedication, and relentless pursuit of excellence in special education resonate throughout our county. This award is a testament to her pivotal role in shaping a brighter, more inclusive future to increase opportunities and outcomes for the students we serve," said Dr. Jeffrey Collier, Superintendent of Saginaw ISD.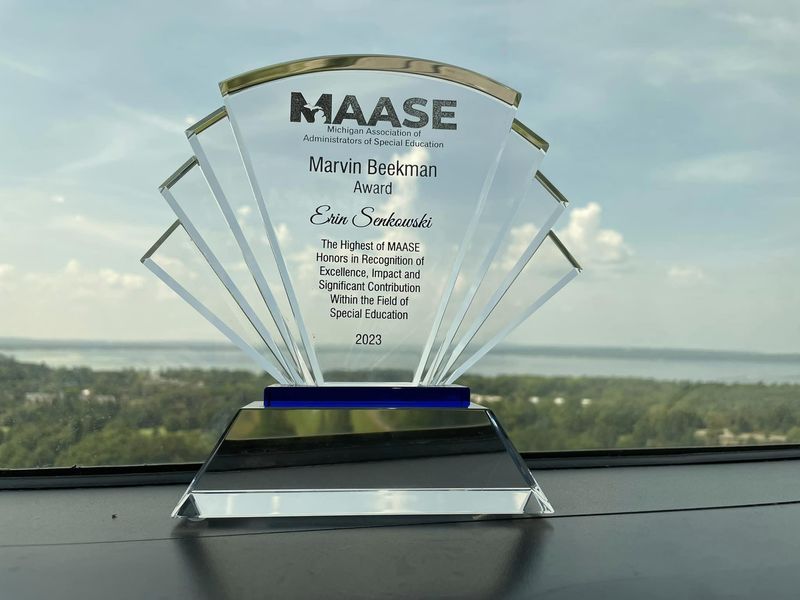 Ms. Senkowski was presented with the award at MAASE's annual conference on August 8, 2023, in Traverse City, Michigan. MAASE and Saginaw ISD coordinated to surprise Erin with her family in attendance. The criteria for the Beekman Award speaks to the impactful work of its recipients. Nominees must have demonstrated significant contributions on behalf of special education, exhibited integrity in their daily work, had involvement in both the community and educational arenas and made contributions to special education with statewide significance. The award recognizes those who have proven themselves visionaries in the field and made significant contributions to MAASE.
"Receiving the Marvin Beekman Award is a humbling testament to the importance of believing that what seems impossible is always within our reach. To be recognized by my fellow special education administrators for the work to improve educational opportunities for students with disabilities only exemplifies the importance of being a voice for those who need it most. The Beekman is a powerful reminder that our students and educators can continue to thrive through our work as advocates, barrier-busters, and leaders. Thank you to the Saginaw ISD Leadership and Board of Education for trusting me with the opportunity to lead an outstanding department of individuals who continue to strive to improve outcomes for our students with disabilities and beyond," expressed Ms. Senkowski.
Saginaw ISD would like to express its immense gratitude to Erin for her significant contributions to the field of special education and her unwavering commitment to the students and community she serves.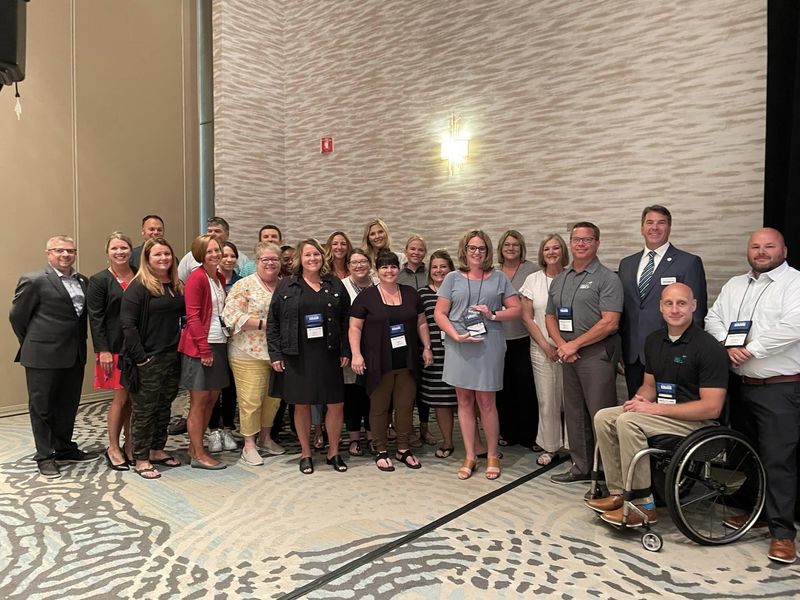 ABOUT ERIN E. SENKOWSKI, Ed.S.
Erin Senkowski serves as the Executive Director of Special Education for the Saginaw Intermediate School District. During her 19 years in education, she has served a variety of roles that support the advancement of students with exceptionalities across the educational setting.
Erin has spent her entire career serving students and families in the Great Lakes Bay Region. Prior to her work in Saginaw County, she served as a teacher for students with Autism and Emotional Impairments for the Midland County ESA. In 2005, she continued her teaching career with Saginaw Township Community Schools as a special education teacher for six years. She assumed her first leadership role in 2011 with the Saginaw ISD, where she served as the Special Education Supervisor assigned to the Freeland Community School District and Saginaw ISD Deaf and Hard of Hearing Program. In 2014, she was promoted to the Assistant Director of Special Education for the Saginaw ISD and then again promoted to the Executive Director of Special Education in August of 2016. She has also served as adjunct faculty at Central Michigan University in the Special Education Department.
Ms. Senkowski holds a Bachelor of Science in Education and a Master of Arts in Special Education from Central Michigan University and an Education Specialist Degree from Saginaw Valley State University. She holds teaching certifications in K-12 Special Education, Elementary Education, and English. She also holds a school administrative certification and full approval as a Director of Special Education in the State of Michigan. She is currently pursuing her Doctor of Philosophy in Educational Leadership from Western Michigan University.
Erin's focus on providing high-quality, equitable educational experiences for all students, especially children with disabilities, runs deep. She continually works to advocate for the needs of students with disabilities by promoting partnerships across the region and state. She is actively involved on various state and national level committees, currently serving as the co-chair of the Legislative Advocacy Committee for the Michigan Association of Administrators of Special Education (MAASE), where she works closely to provide input on pending legislation and policy impact on students and educators across the state. Locally, Erin serves on the Saginaw United Way Board of Directors.
Erin enjoys spending time with her family, traveling, and being outdoors. She and her husband Gary, who is also an educator, are the proud parents of three children Owen, Adelyn, and Eli.
ABOUT SAGINAW INTERMEDIATE SCHOOL DISTRICT
Saginaw Intermediate School District (ISD) is an educational service agency that provides effective and innovative leadership, services, resources, and programs throughout Saginaw County. Saginaw ISD provides career and technical education, early childhood, finance, human resources, instruction, pupil accounting, special education, technology, and transportation services. In addition, Saginaw ISD operates multiple educational programs to meet the unique needs of students ages birth to 26 across Saginaw County, including: Hartley Outdoor Education Center, Head Start/Early Head Start and Great Start to Readiness Programs, Great Lakes Bay Early College, Saginaw County Juvenile Detention Center School, and Special Education Center Programs.
Saginaw ISD serves 12 local school districts, five public school academies, and 22 non-public schools, with a total enrollment of approximately 26,000 students. Public school districts supported include: Birch Run Area Schools, Bridgeport-Spaulding Community School District, Carrollton Public Schools, Chesaning Union Schools, Frankenmuth School District, Freeland Community School District, Hemlock Public School District, Merrill Community Schools, Saginaw Public School District, Saginaw Township Community Schools, St. Charles Community Schools, and Swan Valley School District.
For further inquiries, you may contact Chief of Staff Coty Kuschinsky at ckuschinsky@sisd.cc