Saginaw Intermediate School District would like to congratulate Viloshinee Murugan, DEI Program Director, for being chosen as one of Saginaw NAACP's 2022 Young Professional Award recipients. The award is given to those with outstanding professional achievements and contributions to others. "I wish to congratulate Viloshinee on an incredible recognition that celebrates professional servant leadership and early positive impact on our community," Superintendent Dr. Jeffrey Collier said.
Ms. Murugan and nine other recipients were honored at the Saginaw NAACP's 51st Annual Freedom Fund Celebration on September 25, 2022.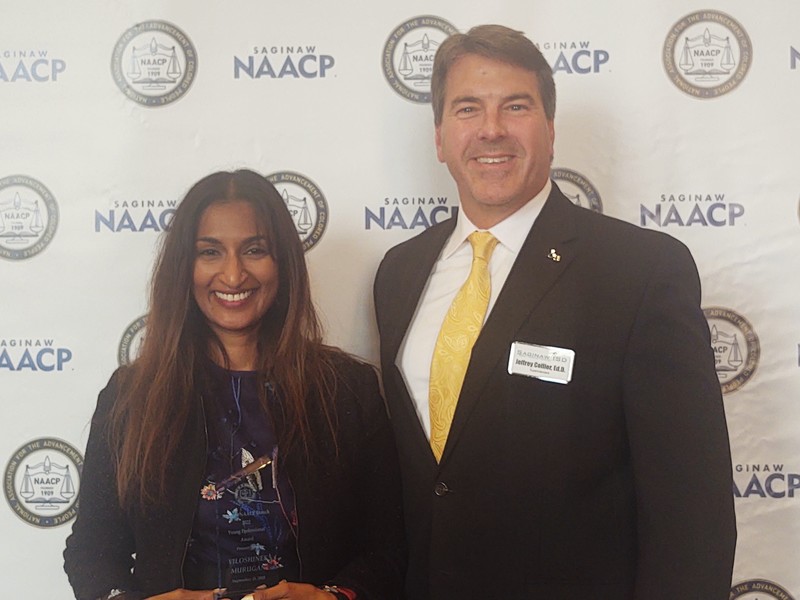 About Viloshinee Murugan, M.Ed.
Viloshinee Murugan is the Diversity, Equity, and Inclusion Program Director of Saginaw Intermediate School District. With 24 years of experience in education, Viloshinee strives to ensure that all children's needs are met and that all voices are heard.
Viloshinee began her teaching career in urban, impoverished areas of Johannesburg, South Africa. She then moved to London, United Kingdom, where she worked in urban school districts as a K-6 teacher. In 2005, Ms. Murugan was recruited to work as a teacher in North Carolina public schools. In this role, she served as a regular education teacher and as a culture, diversity, and global education teacher. In 2018, Viloshinee moved to Michigan. She worked in Marshall Public Schools and later joined the Calhoun ISD as an Educational Consultant.
Viloshinee holds a Bachelor of Education degree and a postgraduate degree in Environmental Education from universities in South Africa. She has a Master of Arts in Educational Leadership from Western Michigan University. In 2021, Viloshinee became a doctoral candidate in Western Michigan University's Philosophy in Educational Leadership program. Ms. Murugan holds a Michigan Professional Teaching license and a K-12 Administrator's Certification.
Ms. Murugan is passionate about the work she does in her DEI role. Growing up in apartheid South Africa, Viloshinee spent her youth in a segregated community where the country's laws were unjust. She has made it her life's mission to advocate for equity and social justice.