Saginaw Intermediate School District's
Hartley Outdoor Education Center Launches New Website
Saginaw Intermediate School District (Saginaw ISD) is thrilled to announce the launch of Hartley Outdoor Education Center's (Hartley) new website (hartley.sisd.cc). Since 1975, Hartley has provided life-long memories of outdoor educational experiences to generations of students across the state of Michigan, and this new site will allow us to share that legacy in an on-demand format. Saginaw ISD partnered with Apptegy, a school communication technology company in Little Rock, Arkansas, to build the site with interactive abilities and a staff social media sharing platform. "The best part of this new service is that staff will be able to share everyday stories that happen at Hartley," said Hartley Program Director Eric Rutherford.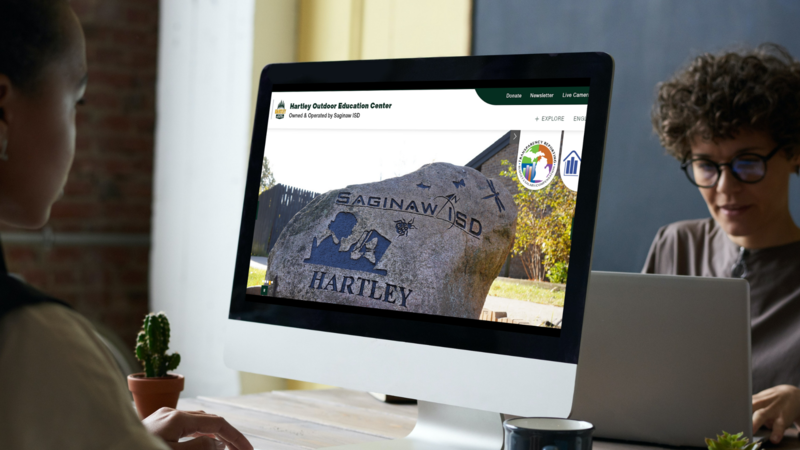 The new site will offer resources and information, such as pieces of history, class offerings, adult team building, teacher support, newsletters, parent packets, and check-ins with staff naturalists. With the launch of the site, we also introduce our Hartley nature cameras, which provide a live look at our pond in its purest form for a peaceful backdrop to use in your classroom or workspace. "Like so many in Saginaw County, I was also a student that visited Hartley in fourth grade, so working on this website is a full circle moment for me. I hope past and future Hartley alumni enjoy it as much as we do," said Chief of Staff and Communications Supervisor Coty Kuschinsky. Hartley and Saginaw Intermediate School District (Saginaw ISD) invite users to provide feedback on any new website features they would like to see by emailing hartley@sisd.cc.
About Hartley
Established by the Saginaw Intermediate School District in 1975, Hartley Outdoor Education Center provides students with experiential learning opportunities and unforgettable moments while exploring nature, wildlife, natural resources, history, and cultures through virtual or in-person interactive learning. Hartley offers a variety of STEM classes in categories such as earth science, life science, and physical science.
Nestled in 311 acres of natural habitat, including hardwood forests, wetlands, meadows, ponds, and a creek, Hartley is home to Coal Mine No. 8, a historical site and museum, Schroeder Log Cabin, Fowler School, Murphy Farm, Henige Log Cabin, and a future Net Zero Greenhouse.
About Saginaw ISD
Saginaw Intermediate School District (SISD) is an educational service agency that provides effective and innovative leadership, services, resources, and programs throughout Saginaw County. Saginaw ISD provides career and technical education, early childhood, finance, human resources, instruction, pupil accounting, special education, technology, and transportation services. In addition, SISD operates multiple educational programs to meet the unique needs of students ages birth to 26 across Saginaw County, including: Hartley Outdoor Education Center, Head Start/Early Head Start and Great Start to Readiness Programs, Great Lakes Bay Early College, Saginaw County Juvenile Detention Center School, and Special Education Center Programs.
Saginaw ISD serves 12 local school districts, six public school academies, and 22 non-public schools, with a total enrollment of approximately 26,000 students. Public school districts supported include: Birch Run Area Schools, Bridgeport-Spaulding Community School District, Carrollton Public Schools, Chesaning Union Schools, Frankenmuth School District, Freeland Community School District, Hemlock Public School District, Merrill Community Schools, Saginaw Public School District, Saginaw Township Community Schools, St. Charles Community Schools, and Swan Valley School District.